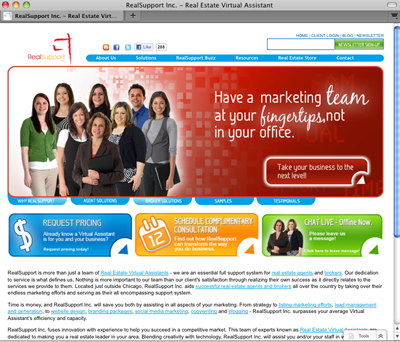 We strive to keep our clients updated on the latest and greatest when it comes to marketing and technology. Below are this weeks "Bright Ideas"...

New RealSupport Website
We're excited to show off our new website designed by Jen Miller, our Project and Design Coordinator!


---
Real Estate Blogging Success Story: "They're Choosing a Home!"
One of the joys of blogging for Real Estate agents is hearing their success stories! The more clients we have come to us with their need for an SEO rich, real estate relevant blog; the more success stories we hear about real estate blogging. One of our clients shares her inspiring story of success with blogging...

---
So I'm on Facebook and Twitter - Now What's My ROI?
One of the biggest questions we get asked as Real Estate Virtual Assistants maintaining social media for our clients is, "What's my ROI?" As an agent, you want to know where your money goes when you've hired us to maintain your social networking presence. Thankfully, we've found something that might help answer some questions...
---
To Blog or Not to Blog - That's No Longer the Question!
A few years ago real estate blogging was the big question. As 2010 begins to quickly draw to a close, the question today isn't if you should blog, but how often, what are your key words to boost your SEO, who are you delegating this to in order to keep your time free, and when can you expect return on your investment.

---
Until next time,
Carrie, Erica, Jen, Lori, Stacey, Allie, Ron and Sarah
RealSupport Inc. - Providing superior Real Estate Virtual Assistant services to Real Estate professionals nationwide since 2000.

Testimonials | View Our Samples | Enter a Task | Follow Erica on Twitter | Follow Carrie on Twitter | Visit Us on Facebook