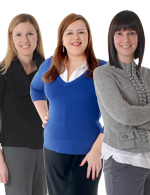 Meet Our New Team Members!
Kristin Crawford, Marketing Assistant
Kristin joined the RealSupport, Inc. team in November of 2012. She holds a Bachelor's degree in Business Administration & Marketing from Southern Methodist University. Kristin began her career in database management and rapidly expanded her skills in real estate marketing. She has created customized ad campaigns in a variety of mediums, including direct mail, print marketing, email, and web-based strategies.
Jessica Robinson, Social Media & Blogging Specialist
Jessica joined the RealSupport, Inc. team in January of 2013. She holds a Bachelor of Arts degree from the University of West Florida, where she won the prestigious Laurie O'Brien Creative Writing Award in both non-fiction and poetry.
Whitney Surane, Marketing & Social Media Assistant
Whitney joined the RealSupport, Inc. team in January of 2013. She brings 13 years of real estate marketing and public relations experience to our talented team! Throughout her career, Whiney has been responsible for advertising campaigns, client retention and residential property management.
4 Tips for a Productive New Year!
With any new year comes a slew of new years' resolutions. For business owners, this oftentimes includes a long list of goals and things you're going to change to take your business to the next level.
If you feel like procrastinating and need a little boost to help you get things done, why not try these simple, yet effective tools to help jumpstart you and your team for the new year!
Reaching Beyond Your Business and Into Your Community in 2013!
It's not everyday you come across a company doing great things in their community and for a great cause. You may know of a few people who volunteer their time or a company who gives an end of the year donation to a local cause, which are all fantastic things, but what if a company really lived by a motto of giving back?
This community focused attitude is truly inspirational and has a far reaching impact. Read a few of the amazing benefits that stand out when doing something like this!