Our educational webinars are focused on providing real estate professionals with the knowledge and tools to create success for their businesses. Please see this month's schedule below:

---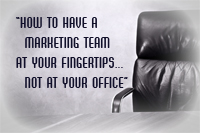 Utilizing a Virtual Assistant to Achieve Your Goals
When: Join us Tuesday, March 12th from 11:00 am - 12:00 pm CST - OR - Tuesday, March 19th from 11:00 am - 12:00 pm CST
Cost: Always Free!

The real estate industry has changed so significantly in the last 20 years, especially with the use of the Internet, yet the typical real estate agent is still running their business as they did 20 years ago - serving as the CEO, marketing department, photographer, book keeper, and receptionist. In order to really take your business to the next level, you need to take a hard look at your business structure and determine what resources you can utilize so that your time is spent on the 3 most profitable aspects of your business – the rest must be delegated! Sounds impossible, but it isn't and there are many resources out there just waiting to serve you with the same goal in mind – making you incredibly successful this year.

In this highly educational webinar, you'll gain an understanding of the Virtual Assistant (VA) industry. The main topics of this engaging 1-hour session are:
• Why you need outside resources and how you can afford them.
• Define what types of virtual assistants are available to you and typical pricing.
• Benefits of using a VA.
• The types of tasks and projects that can easily be delegated to a VA.
• Five specific tools/systems you must have in place to ensure a successful partnership with your VA.
• Other resources you should consider to free up your time and how your VA can even help with that process.

As a bonus to those attending, you'll have the opportunity to receive two essential guides that will assist in your 2013 planning:
• 5-Step Lead Process Worksheet: This is RealSupport's 5-step approach to creating a killer lead management process.
• The Real Estate Agent's Delegation Worksheet: This is your ticket to organizing the tasks and projects that you will delegate to outside resources.