What is the RealSupport Website Design and Website Maintenance Service?
Website Development & Design includes the creation of a completely new website, or the re-design of an existing website. RealSupport offers full-service, custom website development from concept, to design, to content. Whether you want to make a wholesale change to your real estate website, or just update a few areas, we can help!
Website Maintenance Service includes handling the operation and updates for your template websites, such as RealPro, Point2, Superlative and GoDaddy. We take care of security upgrades, site optimization, and content updates.
Why do you need this service?
Your real estate website is your "first impression" to new prospects. A professional website with robust content provides value to your clients, generates new leads, and promotes your brand. It also provides you with essential search engine recognition. Your real estate website is the hub of your online presence and the foundation of your online reputation!
Real Estate Websites made easy!
There are many facets to website development and maintenance - we can help you with your specific needs! Here are just some examples: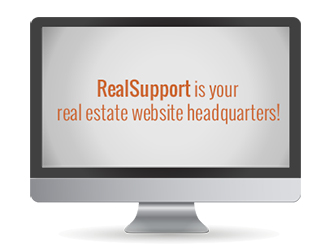 Custom website graphics
Logo design and branding
Domain name creation and registration
Website hosting
SEO enhancement
Custom content and copywriting
Linking to social media sites
Development of social media pages
Blog development and posts
Integration of MLS/IDX feeds
Professional bio
Client testimonials
Security upgrades and site updates
Lead capture integration
Calls to action
Start today!
E-Z Budgeting: We offer package pricing, monthly billing and seamless service.
Our services are completely customizable and can be tailored to fit your needs!
Contact us today for your personal website consultation!