Did You Know That Your 2010 Marketing Campaign Is Ready?
Repetition of your brand is the cornerstone of an effective marketing plan. But who has time to plan, design and mail out frequent reminders to your past clients and SOI?
We do…That's why RealSupport, Inc. is offering you this invaluable marketing program for 2011. We've mapped out a series of postcards to send to your clients once a month for the entire year. Each card is customized with your name and contact information and has space for a personal message from you that can be changed each month or kept the same – you decide. If you want to tailor the program to add or subtract mailings, we'll work with you to draw up a personalized schedule.
The upside for you: no work, no stress and professionally designed postcards reminding your past clients that you're still in business and happy to take their referrals!
Schedule and Pricing:
For a copy of the Schedule & Pricing, click here
.
Sample: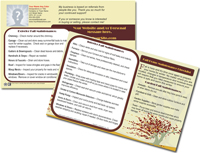 View Larger Sample, Real Estate Fall Checklist Postcard, click here.